Search
To find where your business has been featured in the Office of Tourism's advertising, PR, emails, and articles in the last year or more, type your business name in the search box below. As you type, you'll see a drop down list of matches. Select your business name to see results.
2 Result(s) in Wall Street Theater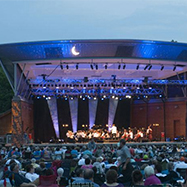 Summer nights, warm breezes, stars up above and music filling the air – how divine! With many outdoor concerts happening around the state this summer, you can enjoy musical days and nights with family and friends. Bring a picnic, relax, and savor the melodies of summer. Here are just a few of the annual music events going on right now in Connecticut. To find events near you, visit our Events Calendar.
Featuring: Bushnell Park | City of Hartford | City of New Haven | Connecticut's Old State House | Goodspeed Musicals - The Goodspeed | MoCA Westport | Music Mountain | Riverfront Recapture | Simsbury Meadows Performing Arts Center | Stonington Vineyards | Town of East Hartford | Town of Farmington | Wadsworth Mansion | Wall Street Theater | Webb Deane Stevens Museum | Westville Music Bowl
City Lifestyle
Online article highlighting places to explore in Connecticut.
Published Date: 2022-04-01
Featuring: Adventure Park at Storrs | Aquila's Nest Vineyards | Arrigoni Winery | Backyard Adventure UTV Tours | Berkshire Balloons | Brownstone Adventure Sports Park | City of Hartford | City of New Haven | Connecticut Art Trail | Connecticut River Museum | Connecticut Wine Country | Covered Bridge Electric Bike Rental | Crystal Ridge Winery | Elm City Party Bike | Garde Arts Center | Hartford Yard Goats | HighFlyer Zipline at Foxwoods Resort Casino | Hops on the Hill Brewery | Katharine Hepburn Cultural Arts Center and Museum | Mayflower Inn & Spa | Priam Vineyards | Railroad Museum of New England/Naugatuck Railroad Company | Ridgefield Playhouse | RiverQuest | Skydive Danielson | Studio 80 + Sculpture Grounds | The Dinosaur Place at Nature's Art Village | The Last Green Valley | The Maritime Aquarium at Norwalk | The Spa at Norwich Inn | Wall Street Theater | Wall to Wall: The New London Mural Walk | Warner Theatre