Search
To find where your business has been featured in the Office of Tourism's advertising, PR, emails, and articles in the last year or more, type your business name in the search box below. As you type, you'll see a drop down list of matches. Select your business name to see results.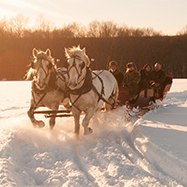 Winter Weekend Wolderland
Overview: Prepare for a blizzard of fun, outdoors or in, all over Connecticut. Here are 30+ activities for the coolest January ever.
Audience: Consumer
Sent: 2020-01-08
Featuring: American Museum of Tort Law | Arethusa al tavolo | Ascot's at The Norwich Inn | Bar Bouchée | Blue Ox Axe Throwing - Bridgeport | Bridgeport Islanders | Chelsea Piers Connecticut | Chestnut Street Playhouse | City of Hartford | City of Norwich | Connecticut Audubon Society Center at Pomfret | Connecticut Chocolate Trail | Connecticut River Museum | Connecticut Science Center | Connecticut Wine Trail | Denison Pequotsepos Nature Center | Discovery Depot at Nature's Art Village | Earthplace, The Nature Discovery & Environmental Learning Center | Florence Griswold Museum | Foxwoods Resort Casino | Gay City State Park | Guided Flyfishing Trips-Housatonic River Outfitters | Hammonasset Beach State Park | Hartford Stage | Hartford Wolfpack | IT Adventure Ropes Course | Infinity Bistro (Hartford) | Infinity Bistro (Norfolk) | Inn at Harbor Hill Marina | Inn at Middletown | James L. Goodwin State Forest | Jorgensen Center for the Performing Arts | KidsPlay Children's Museum | Madison Beach Hotel | Meadowbrook Estate and Mansion | Mohawk Mountain Ski Area | Mohawk State Forest | Mohegan Sun | Monza World Class Karting at Foxwoods | Mount Southington Ski Area | Mystic Aquarium | New Britain Museum of American Art | New Canaan Museum & Historical Society | New England Air Museum | Nomads Adventure Quest | OnTheMarc | Pine & Iron Axe Throwing - Hartford | Playhouse on Park | Powder Ridge Mountain Park & Resort | Prime Climb Mountain Fun | R.J. Julia Booksellers | RiverQuest | RoseGarden Ice Arena | Saybrook Point Resort & Marina | Sharpe Hill Vineyard | Ski Sundown | Spark VR | Supercharged Powered by Mohegan Sun - Indoor Karting & Trampoline Park | The Aldrich Contemporary Art Museum | The Connecticut Beer Trail | The Inn at Longshore | The Inn at Woodstock Hill | The Litchfield Inn | The Maritime Aquarium at Norwalk | The Mark Twain House & Museum | The Spa at Norwich Inn | The Storyteller's Cottage | The Whaler's Inn | Town of Litchfield | Town of Madison | Town of Old Saybrook | Town of Salisbury | Town of Westport | Tschudin Chocolates & Confections | Wadsworth Atheneum Museum of Art | Wadsworth Mansion | Weir Farm National Historic Site | Westport Country Playhouse | White Memorial Conservation Center Museum | Wilton Historical Society | Winding Trails Cross Country Ski Center | Winter Weekend Wolderland | Xperiment Virtual Reality | Yale University Art Gallery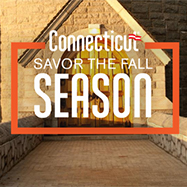 Savor the Fall Season
Overview: November is here — time to soak up every last bit of the fall season. From scenic drives and cideries to corn mazes, ziplining and more, here's how to make it a memorable month.
Audience: Consumer
Sent: 2021-11-03
Featuring: Abbott's Lobster in the Rough | Abigail's Grille & Wine Bar | Adventure Park at Storrs | Adventure Park at the Discovery Museum | Alice in the Village | Allen Hill Farm | Angevine Farm | B.F. Clyde's Cider Mill | Backyard Adventure UTV Tours | Bear Hands Brewery | Beardsley's Cider Mill & Orchard | Beer'd Brewing Company | Bigelow Hollow State Park | Bishop's Orchards Farm Market & Winery | Black Hall Outfitters - Old Lyme | Black Hall Outfitters - Westbrook | Blackberry River Inn | Blue Lobster Seafood | Blue Ox Axe Throwing - Wallingford | Breck Marshall at Mystic Seaport | Brewport | Charlie Brown's Christmas Tree Farm | City Point Kitchen | City Steam Brewery Cafe | City of Hartford | Clark Farms at Bushy Hill Orchard | Clarke Outdoors | Collinsville Canoe & Kayak | Connecticut Bed & Breakfast/Bicycle Trail | Connecticut Chocolate Trail | Connecticut Science Center | Connecticut Shoreline Bike/Boat Tour | Connecticut Trolley Museum | Connecticut Wine Trail | Connecticut's Beardsley Zoo | Cottrell Brewing Company | Covered Bridge Electric Bike Rental | Denison Pequotsepos Nature Center | Devil's Hopyard State Park | Dino's Restaurant | Ekonk Hill Turkey Farm | Ellsworth Hill Orchard & Berry Farm | Essex Clipper Dinner Train | Essex Steam Train & Riverboat | EverWonder Children's Museum | Fairview Tree Farm | Fields of Fire Adventure Park | Firefly Hollow Brewing Company | Flamig Farm | Flanders Fish Market & Restaurant | Gold Rush Farm LLC | Gozzi's Turkey Farm | Greater Middletown Military Museum | Half Full Brewery | HighFlyer Zipline at Foxwoods Resort Casino | Hollister House Garden | Housatonic River Brewing | Hubbard Park & Castle Craig | IT Adventure Ropes Course | Inn at Harbor Hill Marina | J. Timothy's Taverne | Jasper White's Summer Shack | Jonathan Edwards Winery | Jones Family Farms | Kent Falls State Park | KidsPlay Children's Museum | Lady Katharine Cruises - Haddam | Lady Katharine Cruises - Hartford | Lady Katharine Cruises - Middletown | Lee's Riding Stable | Lenny & Joe's Fish Tale Restaurant (Westbrook) | Lenny's Indian Head | Lincoln Financial Sculpture Walk at Riverfront | Lyman Orchards | Main Street Grille | Maple Bank Farm | Mashantucket Pequot Museum & Research Center | Mattabesett Blue Trail | Miller Tree Farm | Millwright's Restaurant | Montana Nights Axe Throwing | Mystic Seaport Museum | New Canaan Nature Center | New England Brewing Company | Noah Webster House & West Hartford Historical Society | Northwest Park & Nature Center | Odin's Keep Axe House | Old Furnace State Park | Olio Restaurant & Bar | Outer Light Brewing Company | Overshores Brewing Company | Oyster Club | PEZ Visitor Center | Pine & Iron Axe Throwing - Hartford | Pine & Iron Axe Throwing - New Haven | Powder Ridge Mountain Park & Resort | Redding Roadhouse | Relic Brewing Company | Restaurant at Rowayton Seafood | RiverQuest | Rory's Restaurant | Roseland Cottage Museum | S&P Oyster Co. | Salt of the Earth Therapeutic Spa | Savor the Fall Season | Seaside Shadows Haunted History Tours | Sharpe Hill Vineyard | Shebeen Brewing Company | Shore Line Trolley Museum | Silverman's Farm | Silverman's Farm | Sleeping Giant State Park | SoNo Seaport Seafood | Sport Hill Farm | Stanton House Inn | Stony Creek Brewery | Stowe's Seafood | Stubborn Beauty Brewing Company | Studio 80 + Sculpture Grounds | Sunset Meadow Vineyards | Talcott Mountain State Park | The Beer Garden at Shippan Landing | The Chowder Pot of Hartford | The Connecticut Pizza Trail | The Inn at Woodstock Hill | The Mark Twain House & Museum | The Place | The Sculpture Mile | The Spa at Norwich Inn | The West Lane Inn | Thimble Island Brewing Company | Thomas Hooker Brewing Company | Town of Burlington | Town of Cornwall | Town of Easton | Town of Guilford | Town of Litchfield | Town of Mystic | Town of Old Saybrook | Town of Redding | Town of Sharon | Town of Simsbury | Town of Westport | Town of Wethersfield | Two Roads Brewing Company | Urban Lodge Brewing | West Haven Veteran's Museum and Learning Center | Wigwam Escape | Willimantic Brewing Company