Search
To find where your business has been featured in the Office of Tourism's advertising, PR, emails, and articles in the last year or more, type your business name in the search box below. As you type, you'll see a drop down list of matches. Select your business name to see results.
1 Result(s) in Trinity Bar & Restaurant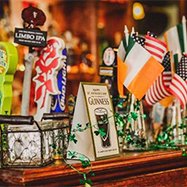 Whether you're celebrating St. Patrick's Day, getting ready to join or watch a parade, or just looking for a place to feel the warmth of the Irish all year round, Connecticut is filled with authentic Irish pubs and restaurants, pulling pints of Guinness and serving up plenty of corned beef and cabbage—not to mention some amazing gourmet and gastropub offerings. To get you started, we've suggested a few in each region of the state. Have a favorite Irish pub in Connecticut we haven't listed? Share it with us @CTvisit!
Featuring: C.C. O'Brien's Sports Cafe | City of Danbury | City of Stamford | Colony Grill - Fairfield | Donovan's | Duffy's Tavern | FennAgains | Harp and Hound Pub | Inishmor Pub | O'Neill's Pub & Restaurant | Playwright Irish Pub & Restaurant | The Half Door | The Lansdowne Irish Pub & Music House | Town of Branford | Town of Southington | Trinity Bar & Restaurant | Vaughan's Public House | Velvet Libations | White Horse Country Pub