Search
To find where your business has been featured in the Office of Tourism's advertising, PR, emails, and articles in the last year or more, type your business name in the search box below. As you type, you'll see a drop down list of matches. Select your business name to see results.
3 Result(s) in Town of North Stonington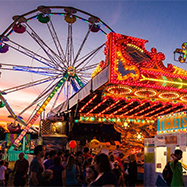 It's that time of the year again when Connecticut welcomes the summer and fall seasons with carnivals, festivals, and fairs in every corner of the state. With tons of activities, entertainment, live music, and delicious food, the only difficult choice will be deciding which ones to attend. Take the family to the same fair you went to as a child or check out a new one. Everyone can enjoy observing the animal exhibits up close, seeing an antique tractor pull or livestock show, taking in live music, perusing locally made food and even indulging in a piece (or two) of fried dough. Connecticut has agricultural fairs that are major fairs, district fairs, 4-H fairs, and local fairs. Here are some of the major fairs happening around the state. You can see the full calendar for 2021 at http://www.ctagfairs.org.
Featuring: Town of Berlin | Town of Bethlehem | Town of Brooklyn | Town of Chester | Town of Durham | Town of Goshen | Town of Guilford | Town of Haddam | Town of Harwinton | Town of Hebron | Town of Lebanon | Town of North Haven | Town of North Stonington | Town of Orange | Town of Portland | Town of Somers | Town of South Windsor | Town of Wolcott | Town of Woodstock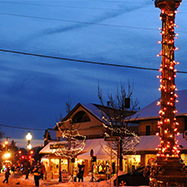 Local businesses need our support more than ever these days, and we are lucky to have so many great ones in the Mystic Country. From clothing boutiques to cafes, and bookstores to general stores, shopping small has never been so big. As you finish up your holiday shopping this season, be sure to stop in some of these beloved small businesses and pick up a unique gift, a homemade treat, or just a little something for yourself!
Featuring: City of New London | Gumdrops & Lollipops Candy Shoppe | Town of Mystic | Town of North Stonington | Town of Putnam | Town of Stonington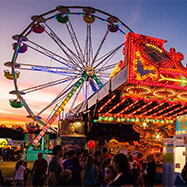 Meet us at the fair!
Overview: Nothing says summer in New England quite like a good old-fashioned country fair. Here are some of the major fairs coming up this summer in Connecticut.
Audience: Consumer
Sent: 2019-07-24
Featuring: City of Norwalk | Town of Berlin | Town of Bethlehem | Town of Bridgewater | Town of Brooklyn | Town of Chester | Town of Durham | Town of Goshen | Town of Guilford | Town of Harwinton | Town of Hebron | Town of Lebanon | Town of Ledyard | Town of North Branford | Town of North Stonington | Town of Orange | Town of Portland | Town of Somers | Town of South Windsor | Town of Wolcott | Town of Woodstock