Search
To find where your business has been featured in the Office of Tourism's advertising, PR, emails, and articles in the last year or more, type your business name in the search box below. As you type, you'll see a drop down list of matches. Select your business name to see results.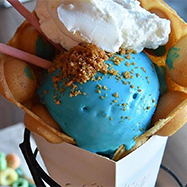 When the sun is shining and the ocean's calling, you'll know it's summer in Connecticut. As the days get longer, more fun activities emerge — and you can be sure businesses are working hard to keep you safe. Whether you're soaking up sun or stars, there's so much to see and do, from active adventure and family fun to relaxation and romantic escapes. Here's your guide to the summer season in Central Connecticut
Featuring: Abby's Place | Alling Memorial Golf Course | Arrigoni Winery | Ashley's Ice Cream (Madison) | Bartaco - West Hartford | Bear's Smokehouse (New Haven) | Becky Thatcher Riverboat | Berkshire Balloons | Bill's Seafood Restaurant | Black Hall Outfitters - Westbrook | Blackie's Hot Dogs | Blackledge Country Club | Branford River Paddlesports, Kayaks and Tours | Brownstone Adventure Sports Park | Bushnell Park | By The Sea Day Spa | Central Rock Gym | Chamard Vineyards | City of Hartford | City of New Haven | Clinton Town Beach | Collinsville Canoe & Kayak | Connecticut River Cruise & Charter | Connecticut River Museum | Connecticut Science Center | Connecticut Valley Brewing Company | Cove Landing Marine | Delamar Spa West Hartford | Devil's Hopyard State Park | East Hartford Golf Club | Edwin C. Ahlberg Antiques | Elizabeth Park Rose Gardens | Enders State Forest | Farmington Miniature Golf & Ice Cream Parlor | Flying Connie Fishing Charters | Fresh Salt at Saybrook Point Resort & Marina | Gay City State Park | Gillette Castle State Park | Gillette Ridge Golf Club | Giuffrida Park | Glenwood Drive-In | Gouveia Vineyards | GrandView Camp Resort and Cottages | Grass Roots Ice Cream | Greater Middletown Military Museum | Hammonasset Beach State Park | Hill-Stead Museum | Honeycone Cream Company | Islander Sport Fishing Charters | Johnny Ad's | Lighthouse Point Park | Lincoln Financial Sculpture Walk at Riverfront | Liv's Shack - Old Saybrook | Lobster Landing | Lobster Shack | Lost Acres Vineyard | Lyman Orchards Golf Club | Madison Beach Hotel | Main Street Creamery & Cafe | Milkcraft - West Hartford | New England Air Museum | New England Motorcycle Museum | Nightjack Sportsfishing | Nomads Adventure Quest | North Coast Charters | North Ridge Golf Club | Old New-Gate Prison & Copper Mine | Old Saybrook Town Beach | Onrust | PEZ Visitor Center | Pagliacci's Restaurant | Paradise Hills Vineyard & Winery | Pardee Rose Gardens | Pine & Iron Axe Throwing - Hartford | Powder Ridge Mountain Park & Resort | River - A Waterfront Restaurant & Bar | River Highlands State Park | RiverQuest | Riverdale Farm Campsite | Rockledge Golf Club | Ron-A-Roll Indoor Roller Skating Center | Rosedale Farms & Vineyards | Safari Golf | Sally's Apizza | Scoopy Doos | Sea Mist Thimble Island Cruise, LLC | Sea Sprite | Shell & Bones Oyster Bar & Grill | Shore Line Trolley Museum | Shoreline Segway | Sleeping Giant State Park | Southington Community Cultural Arts | Spectrum Art Gallery | Stony Creek Brewery | Stowe's Seafood | Sunset Bar & Grill | Talcott Mountain State Park | The Blue Oar | The Place | The Sculpture Mile | Tosca | Town of Avon | Town of Cheshire | Town of Chester | Town of Essex | Town of Farmington | Town of Glastonbury | Town of Lyme | Town of Madison | Town of Old Saybrook | Town of Southington | Town of West Hartford | Tradition Golf Club at Wallingford | Vintage Hi Fi Museum | Vintage Radio & Communications Museum of Connecticut | Wadsworth Atheneum Museum of Art | Wadsworth Falls State Park | Water's Edge Resort & Spa | West Beach | West Haven Veteran's Museum and Learning Center | Wolf's Den Family Campground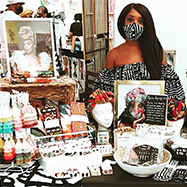 Connecticut is a state with rich history and remarkable innovation – and so much of it has been influenced by the Black individuals who live or have lived here. From historic monuments to Black-owned restaurants, boutiques, and other businesses, we've gathered ways to honor and support the Black history, culture, and businesses that make Connecticut special.
Since there are so many great businesses, we were only able to feature a sample, but encourage you to find even more at ShopBlackCT.com.
Featuring: Amistad Center for Art & Culture | Amistad Memorial | Ancient Burying Ground of Hartford | Black-Eyed Sally's Southern Kitchen & Bar | Capital Ice Cream | City of Bridgeport | City of Bristol | City of Hartford | City of Meriden | City of Middletown | City of Milford | City of New Britain | City of New Haven | City of New London | City of New London | City of Norwich | Connecticut Historical Society Museum and Library | Connecticut Science Center | Connecticut's Old State House | Fire & Spice Vegan Restaurant | Harriet Beecher Stowe Center | Music Theatre of Connecticut | Mystic Seaport Museum | New Britain Museum of American Art | Prudence Crandall Museum | Rhythm Brewing Company | Ruby & Calvin Fletcher African American History Museum | Soldiers' Monument & Memorial Park | Soul de Cuba Café | The Bijou Theatre | The Russell | Tosca | Town of Bloomfield | Town of Cheshire | Town of Coventry | Town of Derby | Town of East Haven | Town of Enfield | Town of Fairfield | Town of Farmington | Town of Greenwich | Town of Hamden | Town of Simsbury | Town of Watertown | Town of West Hartford | Town of Windham | Town of Windsor | Wadsworth Atheneum Museum of Art