Search
To find where your business has been featured in the Office of Tourism's advertising, PR, emails, and articles in the last year or more, type your business name in the search box below. As you type, you'll see a drop down list of matches. Select your business name to see results.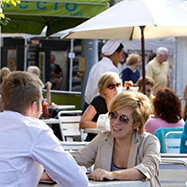 There's nothing like discovering something unexpected. For our "Locals Love" town series, we put the spotlight on Stamford, asking a handful of locals about the best things to do, eat and see in their city. From cocktails with a view to a carousel ride in the park, to a treasure hunt through an antiques wonderland, they gave us great recommendations. So, if you want to experience Stamford like a local, start with the suggestions below. Then visit Stamford Downtown for even more ideas.
Featuring: Amtrak | Avon Theatre Film Center | Capriccio | Cask Republic Stamford | City of Stamford | Coalhouse Pizza | Courtyard by Marriott Stamford Downtown | Franklin Street Works | Lorca | Mianus River State Park | Mill River Park & Greenway | Sheraton Stamford Hotel | SoundWaters | Stamford Marriott Hotel & Spa | Stamford Museum & Nature Center | Teff Stamford | The Lloyd | United House Wrecking Co.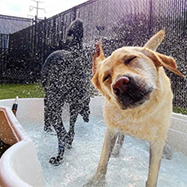 It's no secret that the pandemic has turned our lives upside down, including the way we dine, play, and travel – but that hasn't stopped these businesses from opening new ventures during these difficult times. We've rounded up a few of the new experiences that have popped-up in the last year, all of which have been designed with safety in mind. From new Covid-safe dining models to unique ways to relieve stress, check out these new options invented with a little help from Mother Necessity.
Featuring: Aquila's Nest Vineyards | City of Bridgeport | City of Middletown | City of New Haven | NewSylum Brewing | Parkville Market | Sift Bake Shop | Six Summit Gallery | Smash Avenue | The Essex Public Market & Food Hall | The Lloyd | The Vault Virtual Reality | Town of Fairfield | Town of Greenwich | Town of Mystic | Town of Newtown | Young Buns Donghnuts
Boston Globe Online
Online article highlighting the makeover of The Lloyd.
Published Date: 2020-11-11
Featuring: The Lloyd