Search
To find where your business has been featured in the Office of Tourism's advertising, PR, emails, and articles in the last year or more, type your business name in the search box below. As you type, you'll see a drop down list of matches. Select your business name to see results.
3 Result(s) in The Beer Garden at Shippan Landing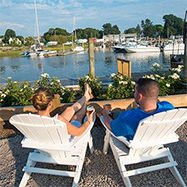 Destination breweries are growing in popularity for beer aficionados and casual beer drinkers alike. From playful interior design to tasting decks with a view, breweries large and small are letting their personality show through. And in Connecticut, our compact size makes it easy to explore one or more of these hot spots in a single trip. We spoke with Will Siss, Connecticut Beer author and self-described "beer snob," to get to the bottom of Connecticut's growing appeal.
Featuring: Bear Hands Brewery | Beer'd Brewing Company | Brewport | City Steam Brewery Cafe | Cottrell Brewing Company | Firefly Hollow Brewing Company | Half Full Brewery | J. Timothy's Taverne | New England Brewing Company | Outer Light Brewing Company | Overshores Brewing Company | Relic Brewing Company | Shebeen Brewing Company | Stony Creek Brewery | Stubborn Beauty Brewing Company | The Beer Garden at Shippan Landing | Thimble Island Brewing Company | Thomas Hooker Brewing Company | Town of Branford | Two Roads Brewing Company | Willimantic Brewing Company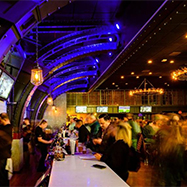 Discover Connecticut's new and expanding food hall scene … and enjoy a slew of new experiences with these unique offerings from the state's beer halls, beer gardens, and lively outdoor settings.
Featuring: Elicit Brewing Company | GastroPark | Hog River Brewing Company | Housatonic River Brewing | Parkville Market | Stony Creek Brewery | The Beer Garden at Shippan Landing | The Essex Public Market & Food Hall | The Hops Company | The Velvet Mill
WRCH-FM
Weekly radio and online spot highlighting things to do and see in Connecticut.
Published Date: 2020-09-08
Featuring: Connecticut Valley Brewing Company | Stony Creek Brewery | Taylor Brooke Brewery | The Beer Garden at Shippan Landing