Search
To find where your business has been featured in the Office of Tourism's advertising, PR, emails, and articles in the last year or more, type your business name in the search box below. As you type, you'll see a drop down list of matches. Select your business name to see results.
1 Result(s) in Soldiers' Monument & Memorial Park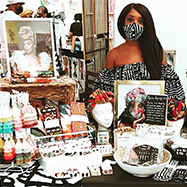 Connecticut is a state with rich history and remarkable innovation – and so much of it has been influenced by the Black individuals who live or have lived here. From historic monuments to Black-owned restaurants, boutiques, and other businesses, we've gathered ways to honor and support the Black history, culture, and businesses that make Connecticut special.
Since there are so many great businesses, we were only able to feature a sample, but encourage you to find even more at ShopBlackCT.com.
Featuring: Amistad Center for Art & Culture | Amistad Memorial | Ancient Burying Ground of Hartford | Black-Eyed Sally's Southern Kitchen & Bar | Capital Ice Cream | City of Bridgeport | City of Bristol | City of Hartford | City of Meriden | City of Middletown | City of Milford | City of New Britain | City of New Haven | City of New London | City of New London | City of Norwich | Connecticut Historical Society Museum and Library | Connecticut Science Center | Connecticut's Old State House | Fire & Spice Vegan Restaurant | Harriet Beecher Stowe Center | Music Theatre of Connecticut | Mystic Seaport Museum | New Britain Museum of American Art | Prudence Crandall Museum | Rhythm Brewing Company | Ruby & Calvin Fletcher African American History Museum | Soldiers' Monument & Memorial Park | Soul de Cuba Café | The Bijou Theatre | The Russell | Tosca | Town of Bloomfield | Town of Cheshire | Town of Coventry | Town of Derby | Town of East Haven | Town of Enfield | Town of Fairfield | Town of Farmington | Town of Greenwich | Town of Hamden | Town of Simsbury | Town of Watertown | Town of West Hartford | Town of Windham | Town of Windsor | Wadsworth Atheneum Museum of Art