Search
To find where your business has been featured in the Office of Tourism's advertising, PR, emails, and articles in the last year or more, type your business name in the search box below. As you type, you'll see a drop down list of matches. Select your business name to see results.
2 Result(s) in Ruby & Calvin Fletcher African American History Museum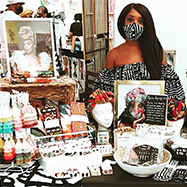 Connecticut is a state with rich history and remarkable innovation – and so much of it has been influenced by the Black individuals who live or have lived here. From historic monuments to Black-owned restaurants, boutiques, and other businesses, we've gathered ways to honor and support the Black history, culture, and businesses that make Connecticut special.
Since there are so many great businesses, we were only able to feature a sample, but encourage you to find even more at ShopBlackCT.com.
Featuring: Amistad Center for Art & Culture | Amistad Memorial | Ancient Burying Ground of Hartford | Black-Eyed Sally's Southern Kitchen & Bar | Capital Ice Cream | City of Bridgeport | City of Bristol | City of Hartford | City of Meriden | City of Middletown | City of Milford | City of New Britain | City of New Haven | City of New London | City of New London | City of Norwich | Connecticut Historical Society Museum and Library | Connecticut Science Center | Connecticut's Old State House | Fire & Spice Vegan Restaurant | Harriet Beecher Stowe Center | Music Theatre of Connecticut | Mystic Seaport Museum | New Britain Museum of American Art | Prudence Crandall Museum | Rhythm Brewing Company | Ruby & Calvin Fletcher African American History Museum | Soldiers' Monument & Memorial Park | Soul de Cuba Café | The Bijou Theatre | The Russell | Tosca | Town of Bloomfield | Town of Cheshire | Town of Coventry | Town of Derby | Town of East Haven | Town of Enfield | Town of Fairfield | Town of Farmington | Town of Greenwich | Town of Hamden | Town of Simsbury | Town of Watertown | Town of West Hartford | Town of Windham | Town of Windsor | Wadsworth Atheneum Museum of Art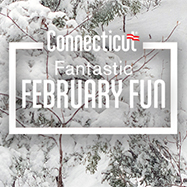 Fantastic February Fun
Overview: February may be the shortest month of the year, but in Connecticut, it's jam-packed with great things to do! From night skiing spots and photo-worthy winter gems to dessert destinations, trampoline parks, and out-of-the-box date ideas, you'll find adventure around every corner.
Audience: Consumer
Sent: 2022-02-04
Featuring: Adventure Rooms | Amistad Center for Art & Culture | Amistad Memorial | Anchor Spa | Ancient Burying Ground of Hartford | Axe It | Ballo Italian at Mohegan Sun | Bantam Lake | Beer'd Brewing Company - The Mill (Stonington) | Black-Eyed Sally's Southern Kitchen & Bar | Blue Back Square | Bridgewater Chocolate - West Hartford | Bridgewater Chocolate Factory Retail Store - Brookfield | By The Sea Day Spa | Cabela's | Capital Ice Cream | Central Rock Gym | Chatfield Hollow State Park | City Climb Gym | City of Bridgeport | City of Bristol | City of Hartford | City of Middletown | City of Milford | City of New Britain | City of New Haven | City of New London | City of Norwich | City of Shelton | City of Waterbury | City of West Haven | Connecticut Antiques Trail | Connecticut Art Trail | Connecticut Chocolate Trail | Connecticut Historical Society Museum and Library | Connecticut Science Center | Connecticut's Old State House | Covered Bridge Electric Bike Rental | David Burke Prime Steakhouse | Denison Pequotsepos Nature Center | Divine Treasures | Escape New Haven | Escapology Escape Rooms | Essex Clipper Dinner Train | Essex Paint & Sip | Fire & Spice Vegan Restaurant | Fired Up | Foxwoods Resort Casino | Front Street District | Gallery on the Green | Garde Arts Center | Gay City State Park | Good News Restaurant & Bar | Greenwich Historical Society | Harriet Beecher Stowe Center | Hartford Yard Goats | Hill-Stead Museum | Hot Rod Cafe | James L. Goodwin State Forest | Keeler Tavern Museum (c.1713) | Lake Waramaug State Park | Lutz Children's Museum | Mandara Spa at Mohegan Sun | Manor House Inn | Middletown Roller Skating Rink | Mind Factory Escape Games | Mission Escape Games | Mohawk Mountain Ski Area | Mohegan Sun | Montana Nights Axe Throwing | Monza World Class Karting at Foxwoods | Mount Southington Ski Area | Muse Paintbar (West Hartford) | Music Theatre of Connecticut | Mystic Aquarium | Mystic Seaport Museum | Mystified Escape Rooms | New Britain Museum of American Art | Noteworthy Chocolates | Odin's Keep Axe House | On Track Karting | PEZ Visitor Center | Painting with a Twist | People's State Forest | Pine & Iron Axe Throwing - Hartford | Pine & Iron Axe Throwing - New Haven | Powder Ridge Mountain Park & Resort | Prudence Crandall Museum | Pursue the Clues | R.J. Julia Booksellers | Rhythm Brewing Company | Ron-A-Roll Indoor Roller Skating Center | Ruby & Calvin Fletcher African American History Museum | Salt Cave of Darien | Salt of the Earth Therapeutic Spa | Sea Tea Comedy Theater | Ski Sundown | Sky Zone - Norwalk | SoNo Nightlife | Soul de Cuba Café | Soulshine Salt Cavern | Spa at Delamar Southport | Spa at Saybrook Point Resort & Marina | Stonington Borough | Stumpy's Hatchet House | Sugar Factory American Brasserie | TAO Asian Bistro & Lounge | Tanger Outlets at Foxwoods | Team vs Time - Premier Room Escape | The Bijou Theatre | The Chocolate Shell | The Connecticut Pizza Trail | The Corner Restaurant | The Maritime Aquarium at Norwalk | The Place 2 Be | The Russell | The Spa at Norwich Inn | The Spa at Water's Edge | Todd English's Tuscany | Town of Avon | Town of Bloomfield | Town of Branford | Town of Canaan | Town of Cheshire | Town of Chester | Town of Coventry | Town of Derby | Town of East Haven | Town of Enfield | Town of Fairfield | Town of Farmington | Town of Greenwich | Town of Guilford | Town of Hamden | Town of Putnam | Town of Salisbury | Town of Simsbury | Town of Southbury | Town of Stratford | Town of Suffield | Town of Watertown | Town of West Hartford | Town of Westport | Town of Windham | Town of Woodbury | Wadsworth Atheneum Museum of Art | Weir Farm National Historic Site | White Memorial Foundation | Wigwam Escape | Winding Trails Cross Country Ski Center | Wood Memorial Library & Museum