Search
To find where your business has been featured in the Office of Tourism's advertising, PR, emails, and articles in the last year or more, type your business name in the search box below. As you type, you'll see a drop down list of matches. Select your business name to see results.
2 Result(s) in New England Watersports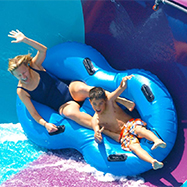 Looking for something to do in Connecticut in June? Whether you want something active or relaxing, cultural or nature-oriented, artistic or trendy, Connecticut's got you covered. Here are some highlights.
Featuring: Adventure Park at the Discovery Museum | Black Hall Outfitters - Old Lyme | Black Hall Outfitters - Westbrook | Brownstone Adventure Sports Park | Clarke Outdoors | Connecticut Beer Trail | Connecticut Chocolate Trail | Connecticut Wine Trail | David Burke Prime Steakhouse | Elizabeth Park Rose Gardens | Ellsworth Hill Orchard & Berry Farm | Empower Adventure Park at Nomads | Empower Adventure Park at Nomads | Fields of Fire Adventure Park | Frank Pepe Pizzeria Napoletana at Mohegan Sun | HighFlyer Zipline at Foxwoods Resort Casino | Jones Family Farms | Lake Compounce Theme Park | Lyman Orchards | Mansfield Drive-In Theatre & Marketplace | Mohegan Park & Memorial Rose Garden | New England Watersports | On Track Karting | Paddle Mystic-Mystic River Adventure Company | Pardee Rose Gardens | Parkville Market | Quassy Amusement & Waterpark | RPM Raceway Stamford | Rock Climb Fairfield | Rockin' Jump Trampoline Park - Trumbull | Rose's Berry Farm | Scoot & Paddle | Sky Zone - Norwalk | Skydive Danielson | Smash Avenue | Sugar Factory American Brasserie | Supercharged Powered by Mohegan Sun - Indoor Karting & Trampoline Park | TAO Asian Bistro & Lounge | Thames River Heritage Park & Water Taxi | The Connecticut Pizza Trail | The Essex Public Market & Food Hall | The Glass House | Town of Barkhamsted | Town of Southington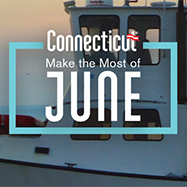 Make the Most of June
Overview: The weather's getting warmer, skies are getting brighter, and June is in full swing! How will you spend the month? From waterfront thrills and garden strolls to rollercoasters and ice cream cones, here's how to fill every moment with fun.
Audience: Consumer
Sent: 2021-06-10
Featuring: 1741 Pub & Grill | Abigail's Grille & Wine Bar | Adventure Park at Storrs | Adventure Park at the Discovery Museum | Argia Mystic Cruises | Bella's Café | Blue Venture Fishing Charters | Bluefin Sportfishing Charters | Brass City Raceway & Axe Throwing | Brewery Legitimus | Brignole Vineyards | Brownstone Adventure Sports Park | Captain Morgan's Boat Training & Charters, LLC | Captain Seth Sportfishing Fleet | Chamard Vineyards | City of Bridgeport | City of Danbury | City of Hartford | City of Hartford | City of Middletown | City of New London | City of Shelton | City of Stamford | Clarke Outdoors | Connecticut Beer Trail | Connecticut Chocolate Trail | Connecticut Wine Trail | David Burke Prime Steakhouse | Elicit Brewing Company | Elizabeth Park Rose Gardens | Ellsworth Hill Orchard & Berry Farm | Elm Street Diner | Empower Adventure Park at Nomads | Fields of Fire Adventure Park | Fifth State Distillery | Firefly Hollow Brewing Company | Foxwoods Resort Casino | Frank Pepe Pizzeria Napoletana at Mohegan Sun | Fresh Salt at Saybrook Point Resort & Marina | GastroPark | Gouveia Vineyards | Grass & Bone | Guided Flyfishing Trips-Housatonic River Outfitters | HighFlyer Zipline at Foxwoods Resort Casino | Hog River Brewing Company | Hopkins Inn Restaurant | Hopkins Vineyard | Housatonic River Brewing | Islander Sport Fishing Charters | Jones Family Farms | Lake Compounce Theme Park | Lucky Strike Charters | Lyman Orchards | Mansfield Drive-In Theatre & Marketplace | Maugle Sierra Vineyards & Winery | Middlebank II | Mill on the River | Miranda Vineyard | Mohegan Park & Memorial Rose Garden | Montana Nights Axe Throwing | New England Watersports | Nightjack Sportsfishing | Odin's Keep Axe House | On Track Karting | Oyster Club | Paddle Mystic-Mystic River Adventure Company | Pardee Rose Gardens | Parkville Market | Pine & Iron Axe Throwing - Hartford | Pine & Iron Axe Throwing - New Haven | Pond House Cafe | Priam Vineyards | Problem Solved Brewery | Quassy Amusement & Waterpark | RPM Raceway Stamford | Rockin' Jump Trampoline Park - Trumbull | Rose's Berry Farm | Saltwater Farm Vineyard | Scoot & Paddle | Sea Sprite | Sharpe Hill Vineyard | Shell & Bones Oyster Bar & Grill | Sky Zone - Norwalk | Skydive Danielson | Smash Avenue | Stony Creek Brewery | Stony Creek Brewery | Sugar Factory American Brasserie | Sundae Drives - Ice Cream Trail | Supercharged Powered by Mohegan Sun - Indoor Karting & Trampoline Park | TAO Asian Bistro & Lounge | Thames River Heritage Park & Water Taxi | The Essex Public Market & Food Hall | The Glass House | The Hops Company | The Spa at Norwich Inn | The Velvet Mill | Tom's Urban - Mohegan Sun Casino | Town of Avon | Town of Barkhamsted | Town of Branford | Town of East Hampton | Town of Fairfield | Town of Ridgefield | Town of Southbury | Town of Southington | Town of West Hartford | Town of Westport | Two Roads Brewing Company | Urban Lodge Brewing | White Horse Country Pub | Willimantic Brewing Company