Search
To find where your business has been featured in the Office of Tourism's advertising, PR, emails, and articles in the last year or more, type your business name in the search box below. As you type, you'll see a drop down list of matches. Select your business name to see results.
1 Result(s) in Michael's Dairy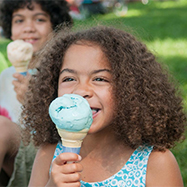 Nothing licks a hot summer day like ice cream! Whether you're on the shoreline, on an inland adventure, or driving along a scenic road in the Quiet Corner, the Sundae Drives brochure will take you to some of the best ice cream that eastern Connecticut has to offer. So what are you waiting for? Hit the ice cream trail!
Featuring: Buttonwood Farm Ice Cream | Ekonk Hill Turkey Farm | Hallmark Drive-In | Hank's Dairy Bar | Michael's Dairy | Mystic Drawbridge Ice Cream | Salem Valley Farms Ice Cream | The Farmer's Cow Calfe & Creamery | UConn Dairy Bar | We-Li-Kit Farm