Search
To find where your business has been featured in the Office of Tourism's advertising, PR, emails, and articles in the last year or more, type your business name in the search box below. As you type, you'll see a drop down list of matches. Select your business name to see results.
1 Result(s) in Kokomo's Restaurant & Beach Club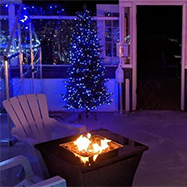 If you had told me that one day I'd be googling "where to dine in an igloo" and bundling up to go eat outside in the dead of New England winter, I would have never believed it, yet here we are! Restaurants, wineries and breweries have really stepped up their game in these "unprecedented times" and given a whole new meaning to the phrase "outdoor dining." From fire pits to igloos to BYOB (blankets that is!), the following places are all ready and waiting for your arrival. Just don't forget your scarf, hat, and mask of course.
Featuring: Jealous Monk | Kokomo's Restaurant & Beach Club | The Crossings Restaurant & Brew Pub | Town of Colchester