Search
To find where your business has been featured in the Office of Tourism's advertising, PR, emails, and articles in the last year or more, type your business name in the search box below. As you type, you'll see a drop down list of matches. Select your business name to see results.
1 Result(s) in Humaston Brook State Park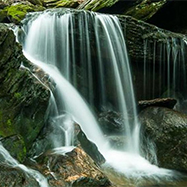 What is it about waterfalls? Thunderous and powerful yet calming and serene, not to mention beautiful! No doubt about it, waterfalls are awe-inspiring any time of year (perhaps most magical when silenced mid-plunge during the winter freeze); and you can find them sprinkled throughout the Litchfield Hills. So pack up some picnic gear, a kayak, your hiking boots, and grab some friends, the kids – or just head out on your own – and explore these wonders of nature right here in Connecticut.
Featuring: Burr Pond State Park | Campbell Falls State Park Reserve | Humaston Brook State Park | Kent Falls State Park | Southford Falls State Park | Town of Beacon Falls | Town of Canaan | Town of Plymouth | Town of Washington | Town of Woodbury