Search
To find where your business has been featured in the Office of Tourism's advertising, PR, emails, and articles in the last year or more, type your business name in the search box below. As you type, you'll see a drop down list of matches. Select your business name to see results.
3 Result(s) in Hey Day Antiques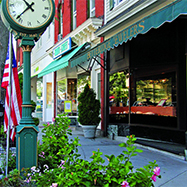 Part of Connecticut's attraction has always been its small-town centers, filled with personality, history and charm. And what draws visitors again and again are the shops, boutiques and artisans that reward browsers and buyers alike. Whether you're planning a girls' trip or looking for a great way to spend a day with family, here are a few of the towns around the state that offer great shopping (and dining) districts.
Featuring: Baldanza - Natural Market Cafe | Barcelona West Hartford | Clinton Crossing Premium Outlets | Delamar West Hartford | Elbow Room | Hey Day Antiques | Inn at Stonington | J House Greenwich | Litchfield Distillery | Litchfield Inn | Little Pub Greenwich | Lobster Landing | Milkcraft - West Hartford | Old Saybrook Antiques Center | Penny Lane Pub Restaurant | Roger Sherman Inn | Saybrook Home | Saybrook Point Resort & Marina | Sharlene Cottage | Silvermine Arts Center | Stonington Borough | The Dutch Epicure Shop | The Glass House | Town of Clinton | Town of Greenwich | Town of Litchfield | Town of New Canaan | Town of Old Saybrook | Town of Stonington | Town of West Hartford | Water Street Cafe | West Hartford Center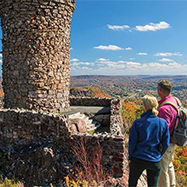 When the air is crisp and vibrant foliage hues emerge, so do safe and fun fall activities. From active adventure and family fun to relaxation and romantic escapes, here's your guide to the fall season in Central Connecticut.
Featuring: 5 Churches Brewing | Abigail's Grille & Wine Bar | Ancient Burying Ground of Hartford | BAR | Bear's Smokehouse (Hartford) | Bear's Smokehouse (New Haven) | Bear's Smokehouse (South Windsor) | Bear's Smokehouse (Windsor) | Belltown Hill Orchards | Berkshire Balloons | Bishop's Orchards Farm Market & Winery | Black Hall Outfitters - Westbrook | Boardman House Inn | Book Trader Café | Bradley Mountain Farm | Bradley Mountain Farm | Branford River Paddlesports, Kayaks and Tours | Brignole Vineyards | Buttermilk Lane Farm | By The Sea Day Spa | Cedar Hill Cemetery | City Climb Gym | City Gallery | City of Milford | City of New Britain | City of New Haven | Claire's Corner Copia | Collinsville Canoe & Kayak | Connecticut Historical Society Museum and Library | Copper Beech Inn | Corner Pug | Delamar Spa West Hartford | Divine Treasures | Drazen Orchards | Easy Pickin's Orchard | Escape New Haven | Farmington Canal Linear Park | Flamig Farm | Flora | Fresh Salt at Saybrook Point Resort & Marina | Gallery on the Green | Geronimo Bar & Grill | Gillette Castle State Park | Goodspeed Musicals - The Goodspeed | Gouveia Vineyards | GrandView Camp Resort and Cottages | Griswold Inn Tap Room | Grove Street Cemetery | Guilford Art Center | Hey Day Antiques | Hickory Hill Orchards | Historic Wethersfield | Hops on the Hill Brewery | House of Naan Indian Kitchen & Bar | Hubbard Park & Castle Craig | IT Adventure Ropes Course | J. Timothy's Taverne | Johnny Appleseed's Farm | Johnson's Duckpin Lanes | Karabin Farms | Katharine Hepburn Cultural Arts Center | Kinsmen Brewing Company | Lenny & Joe's Fish Tale Restaurant (Westbrook) | Lyman Orchards | Maple View Farm | Maple View Farm | Mattabesett Blue Trail | McLean Game Refuge | Middletown Roller Skating Rink | Milford Historical Society | Millers Pond State Park | Montana Nights Axe Throwing | New England Cider Company | Nomads Outdoor Adventure | On Track Karting | Overshores Brewing Company | Penwood State Park | Powder Ridge Mountain Park & Resort | R.J. Julia Booksellers | Ray of Light Farm | Real Art Ways | Rhythm Brewing Company | Rockland Preserve | Rogers Orchards Shuttle Meadow Farm | Rose's Berry Farm | Sayulita | Scranton Seahorse Inn | Simsbury 1820 House | Smash Avenue | Soarin' Indoors | Stanley-Whitman House | Stowe's Seafood | Talcott Mountain State Park | Tap & vine | Ted's Montana Grill | The Children's Museum | The Chowder Pot of Hartford | The Pickin Patch at Woodford Farm | The Place 2 Be | The Wallingford Victorian Inn | Thimble Island Brewing Company | Three Girls Vegan Creamery | Town of Avon | Town of Chester | Town of Essex | Town of Farmington | Town of Glastonbury | Town of Hamden | Town of Hamden | Town of Manchester | Town of Old Saybrook | Town of Portland | Town of West Hartford | Traveler Restaurant | Treat Farm | Union League Café | Wadsworth Atheneum Museum of Art | Webb-Deane-Stevens Museum | West Rock Ridge State Park | Wickham Park | Wolf's Den Family Campground | Yale Center for British Art | Yankee Cider Barn at Staehly Farms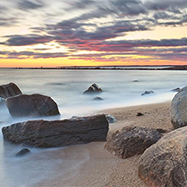 Now's the time to secure your rental property so you won't miss out on a summer vacation at the Connecticut shore! Imagine relaxing days swimming and sunbathing, taking walks along the beach searching for seashells, planning outdoor gatherings by the barbecue and discovering your favorite ice cream spot. For families, Connecticut offers several shoreline communities that are ideal for fun in the sun and lazy days at the beach.
Featuring: Allis-Bushnell House and Museum (c.1785) | Audubon Guilford Salt Meadow Sanctuary | Bishop's Orchards Farm Market & Winery | Black Hall Outfitters - Old Lyme | Chaffinch Island Park | Chamard Vineyards | Clinton Antique Center | Clinton Crossing Premium Outlets | Florence Griswold Museum | Foxwoods Resort Casino | General William Hart House (c.1767) | Henry Whitfield State Museum | Hey Day Antiques | Indian River Marina | Jacob's Beach | Lyme Academy of Fine Arts | Meigs Point Nature Center | Mohegan Sun | Mystic Aquarium | Mystic Arbor Cottage | Mystic Seaport Museum | Old Beautiful | Penny Lane Pub Restaurant | R.J. Julia Booksellers | Saybrook Home | Saybrook Point Park | Shoreline Segway | Studio 80 + Sculpture Grounds | The Sculpture Mile | The Village Chocolatier | Town of Clinton | Town of Guilford | Town of Madison | Town of Mystic | Town of Old Lyme | Town of Old Saybrook