Search
To find where your business has been featured in the Office of Tourism's advertising, PR, emails, and articles in the last year or more, type your business name in the search box below. As you type, you'll see a drop down list of matches. Select your business name to see results.
1 Result(s) in Edmondson's Farm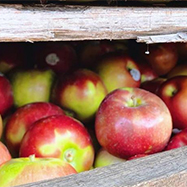 Fall is New England's time to shine. Gorgeous foliage, warm sunny days and crisp cool nights, and miles of farmland just right for pumpkin patches and apple orchards, make it arguably the best season of all around these parts. Eastern Connecticut is no exception, as it boasts some of the best spots in the region for fall fun. From roadside farm stands to acres of orchards, here are our picks for must-visit locales!
Featuring: B.F. Clyde's Cider Mill | Buell's Orchard | Edmondson's Farm | Lapsley Orchard | Whittle's Willow Spring Farm