Search
To find where your business has been featured in the Office of Tourism's advertising, PR, emails, and articles in the last year or more, type your business name in the search box below. As you type, you'll see a drop down list of matches. Select your business name to see results.
3 Result(s) in Eastern Point Beach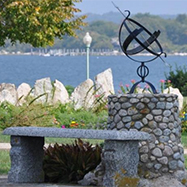 Sure, everyone knows about Mystic Seaport and you may have visited Ocean Beach Park in New London at one time or another, but what about those hidden-gem, off-the-beaten-path spots that only the locals and the savviest of travelers know about? If you are looking to check out a new beach or explore something different this summer, here are a few suggestions for your bucket list located in Mystic Country.
Featuring: Eastern Point Beach | Enders Island Retreat | Waterford Beach Park | Williams Beach Park
Mommy Poppins
Online article highlighting beach day trips in Connecticut.
Published Date: 2018-06-08
Featuring: Abbott's Lobster in the Rough | Calf Pasture & Shady Beach | Captain Scott's Lobster Dock | Eastern Point Beach | Esker Point Beach | Fred's Shanty | Friends & Company | Hammonasset Beach State Park | Harvey's Beach | Lenny & Joe's Fish Tale Restaurant (Westbrook) | McCook Beach & Park | Ocean Beach Park | Paul's Pasta | Rocky Neck State Park | Sherwood Island State Park | Silver Sands State Park | SoundWaters Coastal Education Center | Tony D's | Walnut Beach Creamery
Mommy Poppins
Online article highlighting day trips in Connecticut for families.
Published Date: 2020-06-19
Featuring: Abbott's Lobster in the Rough | Calf Pasture & Shady Beach | Captain Scott's Lobster Dock | Cove Island Park | Eastern Point Beach | Esker Point Beach | Fred's Shanty | Friends & Company | Hammonasset Beach State Park | Harvey's Beach | Jacob's Beach | Jennings Beach | Lenny & Joe's Fish Tale Restaurant (Westbrook) | McCook Beach & Park | Meigs Point Nature Center | Ocean Beach Park | Paul's Pasta | Ripka's Beach Cafe | Rocky Neck State Park | Sherwood Island State Park | Silver Sands State Park | SoundWaters | Tony D's | Village Pizza | Walnut Beach