Search
To find where your business has been featured in the Office of Tourism's advertising, PR, emails, and articles in the last year or more, type your business name in the search box below. As you type, you'll see a drop down list of matches. Select your business name to see results.
4 Result(s) in Colony Grill - Fairfield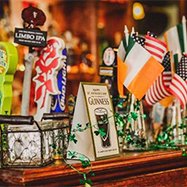 Whether you're celebrating St. Patrick's Day, getting ready to join or watch a parade, or just looking for a place to feel the warmth of the Irish all year round, Connecticut is filled with authentic Irish pubs and restaurants, pulling pints of Guinness and serving up plenty of corned beef and cabbage—not to mention some amazing gourmet and gastropub offerings. To get you started, we've suggested a few in each region of the state. Have a favorite Irish pub in Connecticut we haven't listed? Share it with us @CTvisit!
Featuring: C.C. O'Brien's Sports Cafe | City of Danbury | City of Stamford | Colony Grill - Fairfield | Donovan's | Duffy's Tavern | FennAgains | Harp and Hound Pub | Inishmor Pub | O'Neill's Pub & Restaurant | Playwright Irish Pub & Restaurant | The Half Door | The Lansdowne Irish Pub & Music House | Town of Branford | Town of Southington | Trinity Bar & Restaurant | Vaughan's Public House | Velvet Libations | White Horse Country Pub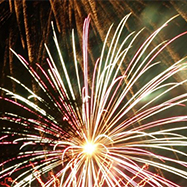 Finally, after a year without this classic summer favorite, firework shows are happening again in Connecticut! And now that they're back, why not make your firework outing an even bigger celebration? We've gathered a list of ways to enjoy your time before and after a few of Connecticut's most popular fireworks shows. To find even more fireworks, check out the complete list here.
Featuring: 33 Golden | Acapulcos | America's Best Value Inn | Baco's Pizza | Bear's Smokehouse (Hartford) | Bicycle Tour Company | Black-Eyed Sally's Southern Kitchen & Bar | Brass City Raceway & Axe Throwing | Captain Scott's Lobster Dock | Centro Restorante & Bar | Circle Hotel Fairfield | City of Bristol | City of Hartford | City of New London | City of Norwich | City of Waterbury | Club Getaway | Colony Grill - Fairfield | Courtyard Waterbury Downtown | Cross Sound Ferry | Custom House Maritime Museum | D. Fairchild Wheeler Golf Course | Domenick & Pia Downtown Pizzeria | DoubleTree by Hilton - Bristol | Easy Pickin's Orchard | Epicure Brewing | Fairfield Social | Fascia's Chocolates | Fife 'n Drum Restaurant & Inn | Figaro Restaurant | Firefly Hollow Brewing Company | Flipside Burgers & Bar | H.C. Barnes Memorial Nature Center | Hampton Inn Springfield/Enfield | Harp & Dragon Pub | Hartford Flavor Company | Hartford Yard Goats | Hog River Brewing Company | Holiday Inn Norwich | Hopkins Inn | Illiano's Grill - Norwich | Inn at Fairfield Beach | Inn at Ocean Avenue | J. Timothy's Taverne | Jennings Beach | Kent Falls Brewing Company | Kent Falls State Park | Lake Compounce Campground | Lake Compounce Theme Park | Lake Mohegan | Lakeside Watersports | Lee's Riding Stable | Litchfield Saltwater Grille | Louie's Pizza | Lyman Allyn Art Museum | Main Street Diner | Mambo Bar & Restaurant | Michael's Dairy | Milkcraft - Fairfield | Mohegan Park & Memorial Rose Garden | Mystic Whaler Cruises | New England Carousel Museum | Ocean Beach Park | Odin's Keep Axe House | Olde Tymes Restaurant | Pagliacci's Restaurant | Parkville Market | Penfield Beach | Pie Hops | Pine & Iron Axe Throwing - Hartford | Powder Hollow Brewery | Reelin | Residence Inn by Marriott - Hartford | Rickards Beach | Riverfront Recapture | Rock Climb Fairfield | Sarapes Mexican Restaurant | Scantic River State Park | Sea Unicorns | Seven Villages Restaurant | Slater Memorial Museum | Sweetie's Bakery & Café | The Art of Yum | The Chelsea | The Goodwin Hotel | The Place 2 Be | The Spa at Norwich Inn | These Guys Brewing Company | Toto Restaurant | Town of Enfield | Town of Fairfield | Town of Litchfield | Town of Warren | Tox Brewing Company | Trumbull Kitchen | Via Al Paraiso | Wadsworth Atheneum Museum of Art | Wall to Wall: The New London Mural Walk | West Hartford Center | West Street Grill | Western Hills Golf Course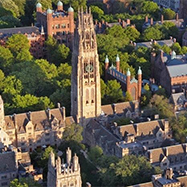 Students, scholars and beyond – Connecticut is home to some of New England's -- and the world's -- top universities. So, it's no secret that people travel from far and wide to visit these spectacular schools. Whether you're touring to attend, visiting a student, or simply interested in the university's history, we've gathered ideas to get the most out of your visit to just a few of the state's most popular schools. From nearby restaurants and hotels to can't-miss attractions, these spots may even become your go-to spots once you're accepted!
Featuring: Adventure Park at Storrs | Adventure Rooms | Akita Asian Fusion & Japanese Steakhouse | Amici Italian Grill Restaurant | Aunt Chilada's | Ballard Institute & Museum of Puppetry | Barcelona Wine Bar | Centro Restorante & Bar | Circle Hotel Fairfield | City of Middletown | Colony Grill - Fairfield | Connecticut River Cruise & Charter | Contemporary Art Galleries | Counter Weight Brewing | Dog Lane Café | Downtown Storrs | East Rock Brewing Company | Eli Cannon's Tap Room | Eli's on Whitney | Fairfield Comedy Club | Fairfield Social | Frank Pepe Pizzeria Napoletana - New Haven | Graduate Storrs | Historic Main Street Middletown | Hops 44 | Hotel Hi-Ho | IT Adventure Ropes Course | Inn at Middletown | Isabelle et Vincent | It's Only Natural (ION) Restaurant | Jennings Beach | Jorgensen Center for the Performing Arts | Lake Mohegan | Lake Wintergreen | Lighthouse Point Park | Long Wharf Theatre | Louis' Lunch | Luce | Milkcraft - Fairfield | Miner Hills Family Golf, LLC | New Haven Green | No Worries Brewery | NoRA Cupcake Company (Middletown) | O'Rourke's Diner | Omni New Haven Hotel at Yale | Pardee Rose Gardens | Penfield Beach | Pine & Iron Axe Throwing - New Haven | Ristorante Luce | Rock Climb Fairfield | Shell & Bones Oyster Bar & Grill | Sleeping Giant Golf Course | Sleeping Giant State Park | Spring Hill Inn | Stubborn Beauty Brewing Company | Taste of New Haven Tours | The Blake Hotel | The Chelsea | The Inn at Storrs | The Shops at Yale | Toto Restaurant | Town of Fairfield | Town of Hamden | UConn Dairy Bar | University of Connecticut | Wadsworth Falls State Park | Wentworth Homemade Ice Cream Company | Whitney Inn & Suites | William Benton Museum of Art | Yale Center for British Art | Yale University Art Gallery | Yale University Visitor Center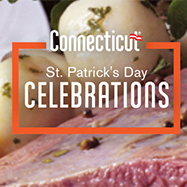 St. Patrick's Day Celebrations
Overview: St. Patrick's Day celebrations may look different this year, but we can still feel the luck of the Irish with festive take-home feasts. From corned beef and cabbage to green beer and more, here's where to find St. Patrick's Day favorites for takeout all throughout the state.
Audience: Consumer
Sent: 2021-03-11
Featuring: C.C. O'Brien's Sports Cafe | City of Danbury | City of Stamford | Colony Grill - Fairfield | Donovan's | Duffy's Tavern | FennAgains | Harp and Hound Pub | Inishmor Pub | J.P. Dempsey's State St. Food & Drink | O'Neill's Pub & Restaurant | Playwright Irish Pub & Restaurant | The Half Door | The Lansdowne Irish Pub & Music House | Tommy Sullivan's Café | Town of Southington | Vaughan's Public House | Velvet Libations | White Horse Country Pub