Search
To find where your business has been featured in the Office of Tourism's advertising, PR, emails, and articles in the last year or more, type your business name in the search box below. As you type, you'll see a drop down list of matches. Select your business name to see results.
3 Result(s) in Cold Spring Farm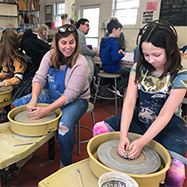 Ever heard the expression, "It's not the destination, it's the journey"? Today, travelers are adapting this mentality more and more. They consciously look to visit destinations where they can immerse themselves in local cultures and ways of life. Immersive travel experiences offer a range of possibilities for the traveler—focusing less on fitting specific places and attractions into an itinerary, and more on experiencing the special traits that make a destination unique.
Connecticut has lots of unique characteristics and authentic experiences for visitors to immerse in. From attending staple events to meeting local artisans to working and learning on farms—here are a few ideas to inspire your immersive travel trip to Connecticut!
Featuring: B&B at Bartlett Farm | Bashan Lake Mansion | Bridgeport Islanders | City of Hartford | City of New Haven | City of New London | City of Norwalk | City of Stamford | Cold Spring Farm | Connecticut Historical Society Museum and Library | Connecticut Sun | Fitstyle Walking Tours | Greenwich Historical Society | Griswold Inn | Guilford Art Center | Hartford Athletic | Hartford Wolfpack | Hartford Yard Goats | Heirloom Market at Comstock Ferre | Lavender Pond Farm | Lime Rock Park | Milford Walking Tour | Silas W. Robbins House | The Blake Hotel | The Wine Press | Town of Greenwich | Town of Mystic | Town of New Milford | Town of Southington | Town of Westport | Wall to Wall: The New London Mural Walk | Winvian Farm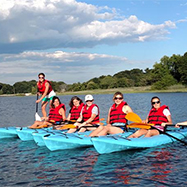 Looking for something to do in Connecticut in May? Whether you want something active or relaxing, cultural or nature-oriented, historic or trendy, Connecticut's got you covered. Here are some highlights.
Featuring: 1741 Pub & Grill at Lyman Orchards | Adventure Park at Storrs | Black Hall Outfitters - Old Lyme | Black Hall Outfitters - Westbrook | Bradley Mountain Farm | Branford River Paddlesports, Kayaks and Tours | By The Sea Day Spa | Chelsea Piers Connecticut | Clarke Outdoors | Cold Spring Farm | Connecticut Antiques Trail | Connecticut Audubon Society Center at Pomfret | Connecticut Wine Country | Connecticut's Beardsley Zoo | Empower Adventure Park at Nomads | Essex Clipper Dinner Train | Fairview Farm Golf Course | Flamig Farm | GastroPark | Gillette Ridge Golf Club | Golf Quest Family Sports Center | Harriet Beecher Stowe Center | HighFlyer Zipline at Foxwoods Resort Casino | Housatonic River Brewing | Lake Compounce Theme Park | Longshore Park | Lyman Orchards Golf Club | Mandara Spa at Mohegan Sun | Mayflower Inn & Spa | MoCA Westport | Mystic Aquarium | Nathan Hale Homestead | Quassy Amusement & Waterpark | Roaring Brook Nature Center | Rockledge Golf Club | Sea Kayak Connecticut | Skydive Danielson | Spa at Delamar Greenwich Harbor | Stamford Museum & Nature Center | The Beer Garden at Shippan Landing | The Connecticut Signature Cocktail Trail | The Maritime Aquarium at Norwalk | The Mark Twain House & Museum | The Spa at Litchfield Hills | Town of Hamden | Wicked Tulips Flower Farm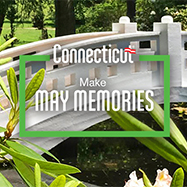 Make May Memories
Overview: Golf courses, concerts, clam shacks, rollercoasters — there are so many things that make May memorable in Connecticut. Here's your guide to memory-making this month.
Audience: Consumer
Sent: 2022-05-06
Featuring: Abigail's Grille & Wine Bar | Adventure Park at the Discovery Museum | Aer Blarney Balloons, LLC | Berkshire Balloons | Black Hall Outfitters - Old Lyme | Black Hall Outfitters - Westbrook | Bradley Mountain Farm | Branford River Paddlesports, Kayaks and Tours | Brownstone Adventure Sports Park | By The Sea Day Spa | Chelsea Piers Connecticut | City of New Haven | Club Getaway | Cold Spring Farm | Connecticut Antiques Trail | Connecticut Audubon Society Center at Pomfret | Connecticut Voyager Balloons | Connecticut's Beardsley Zoo | Empower Adventure Park at Nomads | Essex Clipper Dinner Train | Fairview Farm Golf Course | Flamig Farm | G.W. Tavern | GastroPark | Gilbertie's Herb Gardens | Gillette Ridge Golf Club | Golf Quest Family Sports Center | Harkness Memorial State Park | Harriet Beecher Stowe Center | HighFlyer Zipline at Foxwoods Resort Casino | Hill-Stead Museum | Hollister House Garden | Hopkins Inn | Housatonic River Brewing | Jones Family Farms | Kensington's at The Spa at Norwich Inn | Lake Compounce Theme Park | Lake Waramaug State Park | Lake of Isles Golf Course | Logee's Greenhouses | Longshore Park | Lyman Orchards | Lyman Orchards Golf Club | Mandara Spa at Mohegan Sun | Mansfield Hollow State Park | Mayflower Inn & Spa | MoCA Westport | Mohegan Park & Memorial Rose Garden | Mystic Aquarium | Mystic Seaport Museum | Nathan Hale Homestead | Quassy Amusement & Waterpark | RiverQuest | Roaring Brook Nature Center | Rockledge Golf Club | Rocks 21 | Rocky Neck State Park | Roseland Cottage Museum | Sea Kayak Connecticut | Silver Sands State Park | Skydive Danielson | Spa at Delamar Greenwich Harbor | Spa at Saybrook Point Resort & Marina | Squantz Pond State Park | Stamford Museum & Nature Center | The Beer Garden at Shippan Landing | The Connecticut Signature Cocktail Trail | The Glass House | The Maritime Aquarium at Norwalk | The Mark Twain House & Museum | The Spa at Litchfield Hills | The Spa at Norwich Inn | The Wharf Restaurant | Town of Fairfield | Town of Hamden | Water's Edge Resort & Spa | Weir Farm National Historic Site | White Flower Farm | Wicked Tulips Flower Farm | Wickham Park