Search
To find where your business has been featured in the Office of Tourism's advertising, PR, emails, and articles in the last year or more, type your business name in the search box below. As you type, you'll see a drop down list of matches. Select your business name to see results.
3 Result(s) in Buttermilk Lane Farm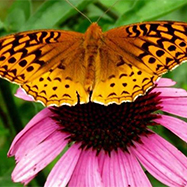 When the snow and ice finally thaw and things start to turn green again, that's the perfect time to take a trip outside the city and experience springtime in Connecticut. Late March through mid-June, everything from flowers and fishing to farm animals and food trucks re-emerges from hibernation, ready to be experienced. Got a springtime fling we haven't mentioned? Let us know @CTvisit.
Featuring: Action Wildlife Foundation | Belknap Preserve | Black Hall Outfitters - Old Lyme | Black Hall Outfitters - Westbrook | Brignole Vineyards | Buttermilk Lane Farm | Chamard Vineyards | City of Bridgeport | Collinsville Canoe & Kayak | Connecticut Audubon Society Deer Pond Farm | Connecticut College Arboretum | Connecticut Wine Country | Connecticut's Beardsley Zoo | Earthplace, The Nature Discovery & Environmental Learning Center | Elizabeth Park Rose Gardens | Flamig Farm | Gillette Castle State Park | Haight-Brown Vineyard | Halfinger Farms | Hill-Stead Museum | Housatonic Anglers | Lavender Pond Farm | McLean Game Refuge | Middlebank II | Mine Hill Preserve/Roxbury Land Trust | Mountain Meadow Outfitters and Charters | Mystic Aquarium | Pachaug State Forest | Rum Runner | Scoot & Paddle | Stamford Museum & Nature Center | Taylor Brooke Winery | Town of Ridgefield | University of Connecticut Animal Barns Self-Guided Tours | Westmoor Park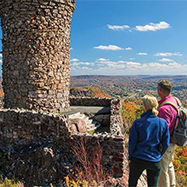 When the air is crisp and vibrant foliage hues emerge, so do safe and fun fall activities. From active adventure and family fun to relaxation and romantic escapes, here's your guide to the fall season in Central Connecticut.
Featuring: 5 Churches Brewing | Abigail's Grille & Wine Bar | Ancient Burying Ground of Hartford | BAR | Bear's Smokehouse (Hartford) | Bear's Smokehouse (New Haven) | Bear's Smokehouse (South Windsor) | Bear's Smokehouse (Windsor) | Belltown Hill Orchards | Berkshire Balloons | Bishop's Orchards Farm Market & Winery | Black Hall Outfitters - Westbrook | Boardman House Inn | Book Trader Café | Bradley Mountain Farm | Bradley Mountain Farm | Branford River Paddlesports, Kayaks and Tours | Brignole Vineyards | Buttermilk Lane Farm | By The Sea Day Spa | Cedar Hill Cemetery | City Climb Gym | City Gallery | City of Milford | City of New Britain | City of New Haven | Claire's Corner Copia | Collinsville Canoe & Kayak | Connecticut Historical Society Museum and Library | Copper Beech Inn | Corner Pug | Delamar Spa West Hartford | Divine Treasures | Drazen Orchards | Easy Pickin's Orchard | Empower Adventure Park at Nomads | Escape New Haven | Farmington Canal Linear Park | Flamig Farm | Flora | Fresh Salt at Saybrook Point Resort & Marina | Gallery on the Green | Geronimo Bar & Grill | Gillette Castle State Park | Goodspeed Musicals - The Goodspeed | Gouveia Vineyards | GrandView Camp Resort and Cottages | Griswold Inn Tap Room | Grove Street Cemetery | Guilford Art Center | Hey Day Antiques | Hickory Hill Orchards | Historic Wethersfield | Hops on the Hill Brewery | House of Naan Indian Kitchen & Bar | Hubbard Park & Castle Craig | IT Adventure Ropes Course | J. Timothy's Taverne | Johnny Appleseed's Farm | Johnson's Duckpin Lanes | Karabin Farms | Katharine Hepburn Cultural Arts Center and Museum | Kinsmen Brewing Company | Lenny & Joe's Fish Tale Restaurant (Westbrook) | Lyman Orchards | Maple View Farm | Maple View Farm | Mattabesett Blue Trail | McLean Game Refuge | Middletown Roller Skating Rink | Milford Historical Society | Millers Pond State Park | Montana Nights Axe Throwing | New England Cider Company | On Track Karting | Overshores Brewing Company | Penwood State Park | Powder Ridge Mountain Park & Resort | R.J. Julia Booksellers | Ray of Light Farm | Real Art Ways | Rhythm Brewing Company | Rockland Preserve | Rogers Orchards Shuttle Meadow Farm | Rose's Berry Farm | Sayulita | Scranton Seahorse Inn | Simsbury 1820 House | Smash Avenue | Soarin' Indoors | Stanley-Whitman House | Stowe's Seafood | Talcott Mountain State Park | Tap & vine | Ted's Montana Grill | The Children's Museum | The Chowder Pot of Hartford | The Pickin Patch at Woodford Farm | The Place 2 Be | The Wallingford Victorian Inn | Thimble Island Brewing Company | Three Girls Vegan Creamery | Town of Avon | Town of Chester | Town of Essex | Town of Farmington | Town of Glastonbury | Town of Hamden | Town of Hamden | Town of Manchester | Town of Old Saybrook | Town of Portland | Town of West Hartford | Traveler Restaurant | Treat Farm | Union League Café | Wadsworth Atheneum Museum of Art | Webb Deane Stevens Museum | West Rock Ridge State Park | Wickham Park | Wolf's Den Family Campground | Yale Center for British Art | Yankee Cider Barn at Staehly Farms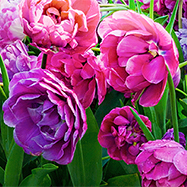 In full bloom
Overview: Spring in Connecticut is in full force, with gardens, fields and farms bursting with new life! Here are a few places to take in the season at its most colorful.
Audience: Consumer
Sent: 2019-05-15
Featuring: Action Wildlife Foundation | Ansonia Nature & Recreation Center | Bartlett Arboretum & Gardens | Belknap Preserve | Bellamy-Ferriday House & Garden | Black Hall Outfitters - Old Lyme | Brignole Vineyards | Buttermilk Lane Farm | Buttonwood Farm Ice Cream | Chamard Vineyards | City of Bridgeport | City of New Britain | City of New Haven | Collinsville Canoe & Kayak | Connecticut Audubon Society Deer Pond Farm | Connecticut College Arboretum | Connecticut Wine Country | Cricket Hill Garden | Delamar Greenwich Harbor | Delamar Southport | Denison Homestead Museum - Pequotsepos Manor (1717) | Earthplace, The Nature Discovery & Environmental Learning Center | Elizabeth Park Rose Gardens | Flamig Farm | Florence Griswold Museum | Frank Pepe Pizzeria Napoletana - New Haven | G Spa at Foxwoods | Gilbertie's Herb Gardens | Gillette Castle State Park | Glebe House Museum & Gertrude Jekyll Garden | Harkness Memorial State Park | Hill-Stead Museum | Hollister House Garden | Housatonic Anglers | Housatonic Museum of Art | Hubbard Park & Castle Craig | Lavender Pond Farm | Little Pub Fairfield | Mandara Spa at Mohegan Sun | Mayflower Inn & Spa | McLean Game Refuge | Meigs Point Nature Center | Middlebank II | Mine Hill Preserve/Roxbury Land Trust | Mountain Meadow Outfitters and Charters | Mystic Aquarium | Old Drake Hill Flower Bridge | Omni New Haven Hotel at Yale | Osborne Homestead Museum | Palmer Arboretum | Roseland Cottage Museum | Rum Runner | Saybrook Point Resort & Marina | Scoot & Paddle | Seaside Park | Stamford Museum & Nature Center | Taylor Brooke Winery | The Spa at Norwich Inn | Town of Fairfield | Town of New Canaan | Town of Ridgefield | University of Connecticut Animal Barns Self-Guided Tours | Water's Edge Resort & Spa | Webb Deane Stevens Museum | Weir Farm National Historic Site | Westmoor Park | White Flower Farm | Wickham Park | Winvian Farm | Yale Marsh Botanical Garden