Search
To find where your business has been featured in the Office of Tourism's advertising, PR, emails, and articles in the last year or more, type your business name in the search box below. As you type, you'll see a drop down list of matches. Select your business name to see results.
3 Result(s) in Audubon Guilford Salt Meadow Sanctuary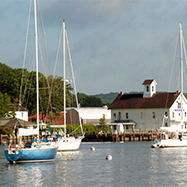 Over 300 miles of Connecticut's coastline hug the shore of Long Island Sound and the Atlantic Ocean. So it's no surprise that many of the region's early European settlers arrived by sea. Working seaports were among the first industries here as well, and today these coastal towns and cities still maintain their maritime character while welcoming travelers with classic New England charm. As many visitors still like to arrive in Connecticut by private boat or public ferry, we're suggesting a few port towns that make it easy to visit for a day or even longer.
Featuring: Audubon Guilford Salt Meadow Sanctuary | City of New London | City of Norwalk | Connecticut River Museum | Cross Sound Ferry Lighthouse Cruise | Discover East Lyme | Docking at Mystic Seaport Museum | Downtown Essex | Essex Island Marina | Fort Trumbull Marina | Griswold Inn | Guilford Art Center | Guilford Mooring | Guilford Town Marina | Guilford Walking Tours | Mystic Aquarium | Mystic Pizza | Mystic Point Marina | Mystic River Marina | Mystic Seaport Museum | New London Historic Waterfront District | Paddle Mystic-Mystic River Adventure Company | Port Niantic | Sheffield Island Lighthouse and Harbor Tour | Shoreline Segway | Skipper's Seafood Restaurant | Smarty's Restaurant & Pub | SoNo Nightlife | Thamesport Marina | Town of Essex | Town of Guilford | Town of Mystic
If you are looking to spend a day outside, only to find your favorite state park is closed, here are some other outdoor locations and local businesses to help you get outside and discover new outdoor destinations in Connecticut.
Featuring: Adventure Park at Storrs | Adventure Park at the Discovery Museum | Audubon Guilford Salt Meadow Sanctuary | Bigelow Hollow State Park | Black Hall Outfitters - Old Lyme | Black Hall Outfitters - Westbrook | Black Rock State Park | Bluff Point Coastal Reserve | Burr Pond State Park | Chatfield Hollow State Park | City of Milford | City of Norwalk | Collinsville Canoe & Kayak | Connecticut Audubon Society Center at Fairfield | Connecticut Audubon Society Coastal Center | Devil's Hopyard State Park | Gardner Lake State Park | Hammonasset Beach State Park | Harkness Memorial State Park | Hidden Valley Preserve | Hopeville Pond State Park | Lake Waramaug State Park | Lovers Leap State Park | Lucius Pond Ordway/Devil's Den Preserve | Mansfield Hollow State Park | McLean Game Refuge | Millers Pond State Park | Mount Tom State Park | Nomads Outdoor Adventure | Paddle Mystic-Mystic River Adventure Company | Paugussett State Forest | Penwood State Park | Quinnipiac River Linear Trail | Rocky Neck State Park | Satan's Kingdom State Recreation Area | Scantic River State Park | Scoot & Paddle | Sea Kayak Connecticut | Sherwood Island State Park | Silver Sands State Park | Sleeping Giant State Park | Southford Falls State Park | Stewart B. McKinney National Wildlife Refuge | Talcott Mountain State Park | Topsmead State Forest | Town of Kent | Wadsworth Falls State Park | Webb Mountain Discovery Zone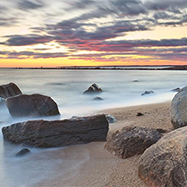 Now's the time to secure your rental property so you won't miss out on a summer vacation at the Connecticut shore! Imagine relaxing days swimming and sunbathing, taking walks along the beach searching for seashells, planning outdoor gatherings by the barbecue and discovering your favorite ice cream spot. For families, Connecticut offers several shoreline communities that are ideal for fun in the sun and lazy days at the beach.
Featuring: Allis-Bushnell House and Museum (c.1785) | Audubon Guilford Salt Meadow Sanctuary | Bishop's Orchards Farm Market & Winery | Black Hall Outfitters - Old Lyme | Chaffinch Island Park | Chamard Vineyards | Clinton Antique Center | Clinton Crossing Premium Outlets | Florence Griswold Museum | Foxwoods Resort Casino | General William Hart House (c.1767) | Henry Whitfield State Museum | Hey Day Antiques | Indian River Marina | Jacob's Beach | Lyme Academy of Fine Arts | Meigs Point Nature Center | Mohegan Sun | Mystic Aquarium | Mystic Arbor Cottage | Mystic Seaport Museum | Old Beautiful | Penny Lane Pub Restaurant | R.J. Julia Booksellers | Saybrook Home | Saybrook Point Park | Shoreline Segway | Studio 80 + Sculpture Grounds | The Sculpture Mile | The Village Chocolatier | Town of Clinton | Town of Guilford | Town of Madison | Town of Mystic | Town of Old Lyme | Town of Old Saybrook