Search
To find where your business has been featured in the Office of Tourism's advertising, PR, emails, and articles in the last year or more, type your business name in the search box below. As you type, you'll see a drop down list of matches. Select your business name to see results.
1 Result(s) in The Hare & The Hound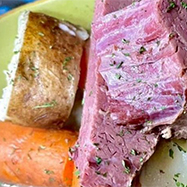 As they say… we are all Irish on St. Patrick's Day, so if you are looking for an authentic Irish meal and a properly poured Guinness to celebrate with, we are happy to help steer you in the right direction! And if you would rather earn your beer with a light workout, or even celebrate via a drive-through parade, we have got the details on those options too. Get your green (masks) ready and read on for our best ways to celebrate the season.
Featuring: City of New London | Inishmor Pub | The Hare & The Hound | Town of Mystic