Search
To find where your business has been featured in the Office of Tourism's advertising, PR, emails, and articles in the last year or more, type your business name in the search box below. As you type, you'll see a drop down list of matches. Select your business name to see results.
4 Result(s) in Little Pub Greenwich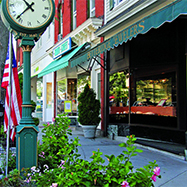 Part of Connecticut's attraction has always been its small-town centers, filled with personality, history and charm. And what draws visitors again and again are the shops, boutiques and artisans that reward browsers and buyers alike. Whether you're planning a girls' trip or looking for a great way to spend a day with family, here are a few of the towns around the state that offer great shopping (and dining) districts.
Featuring: Baldanza - Natural Market Cafe | Barcelona West Hartford | Clinton Crossing Premium Outlets | Delamar West Hartford | Elbow Room | Hey Day Antiques | Inn at Stonington | J House Greenwich | Litchfield Distillery | Litchfield Inn | Little Pub Greenwich | Lobster Landing | Milkcraft - West Hartford | Old Saybrook Antiques Center | Penny Lane Pub Restaurant | Roger Sherman Inn | Saybrook Home | Saybrook Point Resort & Marina | Sharlene Cottage | Silvermine Arts Center | Stonington Borough | The Dutch Epicure Shop | The Glass House | Town of Clinton | Town of Greenwich | Town of Litchfield | Town of New Canaan | Town of Old Saybrook | Town of Stonington | Town of West Hartford | Water Street Cafe | West Hartford Center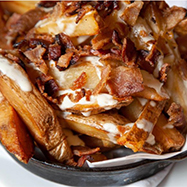 The CT Ambassadors from UnlockingConnecticut.com are at it again! Here's their take on Connecticut's most amazing french fry spots.
"Yummy (and unique) fries in Connecticut" could well be the best idea we've ever had for an article. As we now consider ourselves "french fry sommeliers," let us present to you, 7 french fry dishes in Connecticut worth the journey!
Featuring: City of Danbury | City of Milford | Fife 'n Drum Restaurant & Inn | House of Naan Indian Kitchen & Bar | John's Cafe | Little Pub Greenwich | Town of New Milford
New Radio 810 & 103.1 WGY
Online article highlighting the Drinks on Us campaign.
Published Date: 2021-04-27
Featuring: Bear's Smokehouse (Hartford) | Buffalo Wild Wings - Milford | Buffalo Wild Wings - North Haven | City of Bridgeport | City of Norwalk | City of Stamford | Elmer's Diner | Engine Room | Flanders Fish Market & Restaurant | Geronimo Bar & Grill | Hot Rod Cafe | Jimmy's Pizzeria & Restaurant | Little Pub Fairfield | Little Pub Greenwich | Little Pub Ridgefield | Match | Match Burger Lobster | Mia's Prime Time Cafe | Millwright's Restaurant | Noah's Restaurant | Oyster Club | Partners Café | Pie Hops | Que Whiskey Kitchen | The Place 2 Be | Town of Bethel | Town of East Lyme | Town of Fairfield | Town of Newtown | Town of Westport | Wood-n-Tap
105.1 The Wolf, 1290 WJNO, 96.3 KHEY Country, 97.1 ZHT, business991.iheart.com, CHANNEL 999, KFI AM 640, MIX 107.7, New Radio 1110 KFAB, New Radio 1170 WWVA, New Talk 99.5 WRNO, On With Mario, Power Talk 1360, The Boxer Show, WTAG, WSRW.com
Online article highlighting the Drinks on Us campaign.
Published Date: 2021-04-28
Featuring: Bear's Smokehouse (Hartford) | Buffalo Wild Wings - Milford | Buffalo Wild Wings - Milford | Buffalo Wild Wings - North Haven | Buffalo Wild Wings - North Haven | Camacho Garage | City of Bridgeport | City of Groton | City of Hartford | City of New Haven | City of Norwalk | City of Stamford | Elmer's Diner | Engine Room | Flanders Fish Market & Restaurant | Geronimo Bar & Grill | Geronimo Bar & Grill | Hot Rod Cafe | Jimmy's Pizzeria & Restaurant | Little Pub Fairfield | Little Pub Greenwich | Little Pub Ridgefield | Little Pub Wilton | Match | Match Burger Lobster | Mia's Prime Time Cafe | Millwright's Restaurant | Noah's Restaurant | Oyster Club | Partners Café | Pie Hops | Pig Rig BBQ | Que Whiskey Kitchen | Shell & Bones Oyster Bar & Grill | Tap & vine | The Mariner | The Place 2 Be | Town of Bethel | Town of Derby | Town of East Lyme | Town of Fairfield | Town of Naugatuck | Town of Newtown | Town of North Haven | Town of Southbury | Town of Wallingford | Town of Westport | Union League Café | Wood-n-Tap